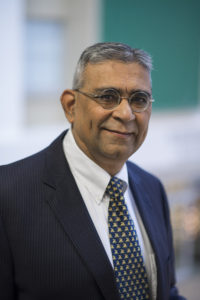 Mohammed I. Ranavaya, M.D., professor in the department of family and community health and section chief for occupational medicine, is one of five keynote speakers at the International Forum on Disability Management (IFDM) scheduled for November 22-24 in Kuala Lumpur, Malaysia.
He is the only keynote speaker from the United States.
Ranavaya's presentation, "Empowering Ability in Disability," will focus on empowering individuals to successfully manage their disabilities on many different levels including legislative, educational, social and medical.
"I'm excited to participate in this forum, which is the only global conference dedicated solely to disability management," Ranavaya said. "Those attending represent health, safety and workers compensation groups and I'm happy to represent Marshall University at this international level."
Ranavaya, who has practiced medicine for 37 years, has been with Marshall University since 2000.  In addition to being a medical doctor, Ranavaya has a law degree.