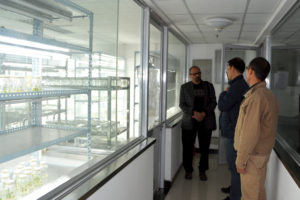 A research scientist from West Virginia State University (WVSU) recently visited China to facilitate collaborations on research that would strengthen disease resistance in watermelon crops. WVSU research scientist Dr. Umesh K. Reddy was invited as a distinguished scientist by the Chinese government to advise researchers at the Zhengzhou Fruit Research Institute of the Chinese Academy of Agricultural Sciences and the Beijing Vegetable Improvement Center on how they can incorporate disease resistance and increase fruit quality.
The institutions will soon begin a project seeking to identify genes resistant to Fusarium wilt, a fungal disease devastating to fruit quality. Such work will aid the state's farmers in being able to produce stronger, healthier crops. The group looks to publish results of the project in late 2017.
"Our research on grafting and seedless watermelons here at West Virginia State University could greatly impact the Chinese watermelon breeding program," said Reddy, who made the trip in early November. "It was an honor to be able to share our work firsthand and begin to collaborate on a larger scale."
Reddy's team conducts research with vegetable grafting to improve crop yield. Fruit and vegetable grafting involves attaching the top part of one plant with the root system of another, which contributes to growth and disease resistance. Reddy presented his project's findings on the trip and toured Chinese facilities.
China is currently the largest producer of watermelons, claiming 57 percent of the world's production, Reddy said, adding that Zhengzhou province has 250,000 acres of watermelon production alone, more than double the production area in the U.S.
Genomics research led by Reddy and Dr. Padma Nimmakayala at WVSU has been published in such prestigious scientific journals as BMC Genomics; Journal of Heredity; Euphytica; Molecular Breeding; G3: Genes, Genomes, Genetics; and the Journal of Experimental Botany.