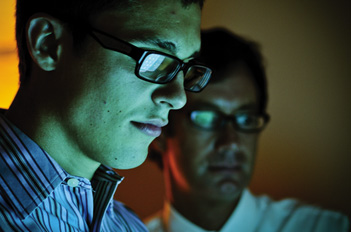 Dr. Bryan Raudenbush applies common scents to his research. Literally.
 
As associate professor of psychology at Wheeling Jesuit University, Dr. Raudenbush specializes in odorants and food.
 
As director of undergraduate research, Dr. Raudenbush makes sure the WJU faculty provide hands-on and mentored research to assist students into graduate school and post-graduation careers.
 
"We want to keep our student's experience vibrant and useful.  The research work they do is good for them and good for Wheeling Jesuit. We couldn't get anything done without dedicated students working in our labs."
 
Read more about Dr. Raudenbush and his work in the Summer 2011 edition of the Neuron.