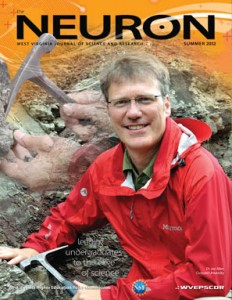 The Summer 2012 issue of the Neuron, West Virginia's quarterly journal of science and research, is now available online and in print.
Articles include a cover feature on Concord University Geology Professor Joe Allen, West Virginia State U.'s new high-performance computer and 'vizwall,' a WVU study on how cells signal each other to make changes, saving the state's natural history collection at MU, and much more.
Click here to download a pdf version online. To receive a printed copy or to begin receiving printed copies of future Neurons by mail, contact Kelly Merritt with your name, mailing address and e-mail address.
To see Neuron back issues, visit the Neuron page of the Library.