Dr. Andrew Nichols loved hunting and fishing as a child growing up in Point Pleasant, West Virginia.  His fascination with Legos and enjoyment of math and science naturally set him on a path to become an engineer.  It was at Purdue University where he was pursuing his Master's and Doctorate Degrees in civil engineering that Nichols found out that traffic engineering was a great fit for him.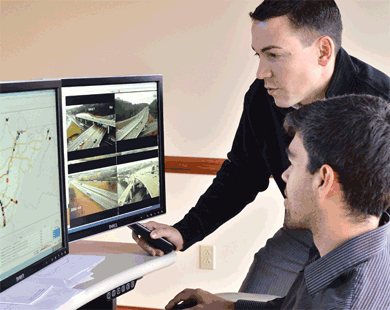 While at Purdue, Nichols worked in a traffic lab which he credits with giving him invaluable hands-on experience with traffic signals to complement what he was learning in the classroom. He developed skills that allow him to not only use software in the office to study traffic patterns and design traffic signal timings, but he also learned how to program actual traffic signal controllers that are installed at all intersections – expertise, he said, that very few practicing traffic engineers have.
The research he is doing right now as an associate professor of engineering at Marshall University is funded by the West Virginia Department of Transportation (WVDOT).  His research promotes ways to make West Virginia roads and intersections safer and more efficient. He conducts research in conjunction with the Nick J. Rahall Appalachian Transportation Institute (RTI) at Marshall University – a leader in multimodal transportation and economic development in West Virginia and the Appalachian Region.
Read more about Dr. Nichols' accomplishments and research in the Winter 2014 edition of the Neuron.
Continued reading
If you're visiting this page because you wanted to learn more about Dr. Nichols after reading your copy of the Neuron, click here.
To read about other West Virginia researchers featured in the Neuron, visit the Neuron page of the Library.