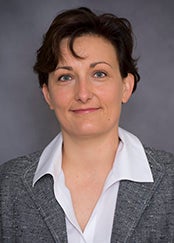 Dr. Sandrine V. Pierre has been named associate investigator and education coordinator at the Marshall Institute for Interdisciplinary Research (MIIR).
Pierre most recently was on the faculty of the University of Toledo College of Medicine, where she had served as an associate professor in the Department of Biochemistry and Cancer Biology since July 2013. Prior to that, she was an assistant professor in the same department. From 2003 to 2011, she was an assistant professor in the college's Department of Physiology and Pharmacology. In addition, she was a research instructor and post-doctoral fellow in the Department of Physiology at Texas Tech University from 2000 to 2003.
She has a Bachelor's Degree in cell biology and a Doctorate in cell communication in endocrinology from Aix-Marseille II University in France. She is an active member of the steering committee of the American Physiology Society's Cell and Molecular Physiology section.
Pierre's group at MIIR will explore new treatments for heart attacks and other cardiovascular conditions by studying how the dual role of this sodium-potassium pump regulates cardiac cell physiology in health and diseases.
As the institute's education coordinator, Pierre will work with Marshall academic program directors to facilitate students' access to research opportunities in the MIIR labs.
MIIR is Marshall University's key vehicle to advancing regional economic development through entrepreneurship and commercialization of scientific discoveries. Scientists at the institute are developing an intensive program of biotechnology research dedicated to producing patentable scientific breakthroughs and creating new businesses based on those discoveries.
Research at the institute is focused on a protein, the Na+, K+-ATPase, which is commonly referred to as the "sodium-potassium pump" because it controls the active transport of potassium and sodium in and out of cells. This "pump" plays a second, distinct role by directing many cellular processes in the heart, kidneys and other tissues. Through their studies to learn more about the molecular mechanisms by which this cellular signaling occurs, MIIR researchers are working to develop new treatments for cancer, heart and kidney disease.
"I am very pleased to have Dr. Pierre join us," said Dr. Zijian Xie, director of MIIR. "She fits very nicely because her skills not only complement the research and innovation strengths at the institute, but also enhance our educational mission. She brings national exposure to MIIR through her experience in student recruitment and her service to the American Physiology Society."
Pierre said, "I simply can't think of a role that could better suit my scientific and academic interests. I am thrilled by the prospect of exploring concrete applications for our research. I am also looking forward to working with my new colleagues at Marshall to build MIIR as an environment that will help further position students for success in biomedical research and entrepreneurship."
For more information about MIIR, visit www.marshall.edu/miir.